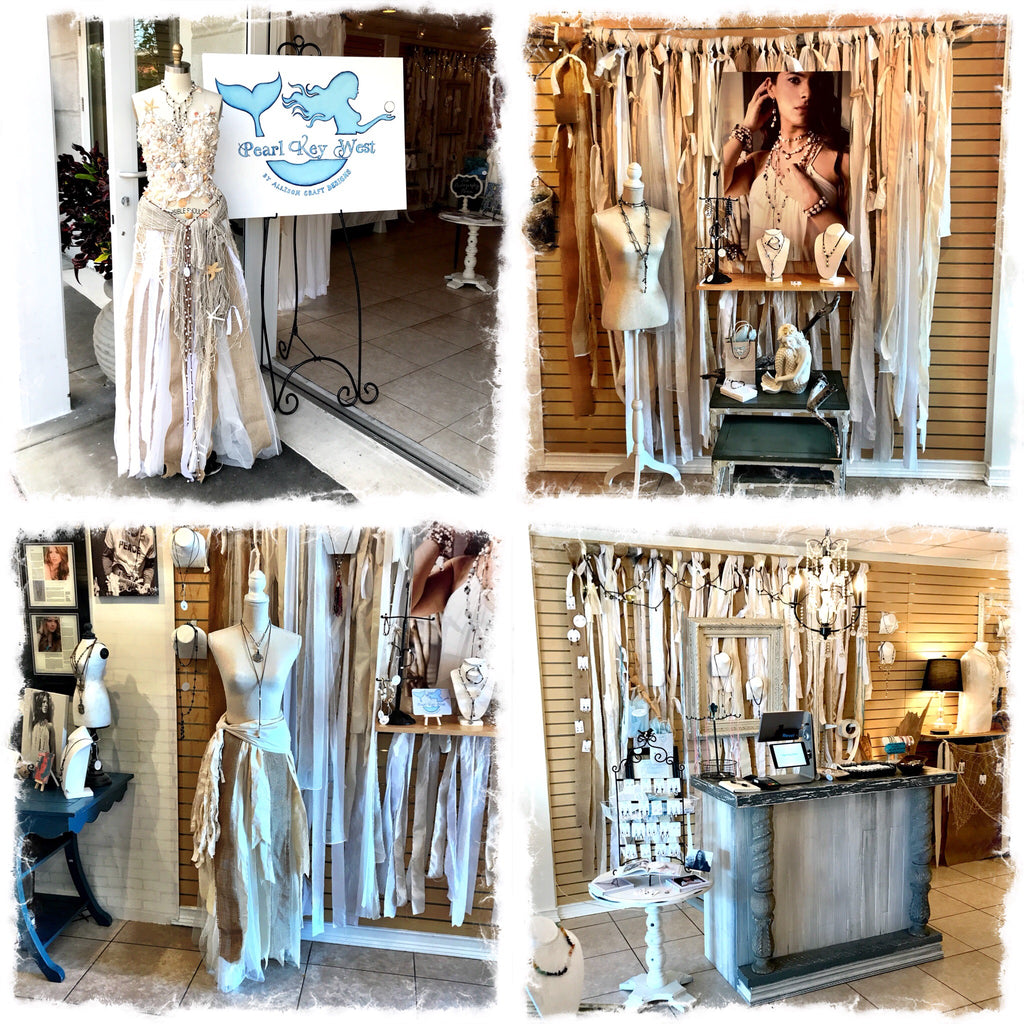 So if you know me, change is totally not my thing...with that being said, Hey! We moved to Key West! Well, it wasn't quite like that...it all started with an idea, the start of a business plan .....and I will say this- NOTHING happens quick nor easy in Key West if you are trying to deal with real life business etc.  Over the past 4 years we have attended small business meetings, classes, webinars, you name it! Scott has worked tirelessly on every detail of the "plan" while I got to "make it pretty"! We got a lot of "no's" on our journey to make this happen, but he in particular never let it deter from the plan. We knew the potential, we saw what was happening around us, especially with our location in Grayton Beach, and although it was never in our plan to close the Grayton store- business decisions must be made and tears are sometimes (many times) shed. We finally found a bank willing to take a chance on us, believe what we knew, and that "yes" finally came. (Thanks Trustmark!!) After countless hours it was time to make it a reality. First step, location location location! Duval St of course is where people go to party and play, but did it fit us? Several trips down (while keeping it to ourselves at that point), we just weren't feeling it with any of the available spaces...then we heard there "might" just be something in Margaritaville....hmmmmmmmm It just felt right- so now here we are. We opened our store here Feb. 3 after a total of 4 1/2 days to get it set up and our heads have been spinning ever since. (did I mention having to come back and pack up the Grayton Studio??? Thank GOD for wonderful friends stepping up to help- I could not have done it alone!)
At this point we are working 7 days a week as early as we can get there till the ship leaves. (We are at the most popular Cruise ship Marina in Key West) Some things have had to be set aside, phone calls, emails, FUN, SLEEP....etc- but we are working our fannies off as much as we can do- will get caught us asap.....Maybe! 
My jewelry is still available online, and at "Fusion Art and Glass Gallery" in Seaside and Grandblvd, and newly added "Not Too Shabby by Marisol Gullo" in Miramar Beach.  You can keep up with everything on instagram and facebook under Allison Craft Designs and at some point I will get the emails back up and going- just haven't had time to think!
I miss my 30a family so much, and don't have any intention of not returning, just mostly to visit at this point. Who knows what the future will hold! For now tho, we are learning about being Key West locals, driving WAY too much for our commute, and taking every min. we can to remember to LIVE. If you are waiting on something from me, please be patient, if you need something and don't see it on the website, email me, I will do my best to help. As we get everything situated and find employees (the BIGGEST CHALLENGE yet!!!) I will get back to a semblance of life, a doable "to do list", and oh yeah...returning phone calls...(who am I kidding, I hate talking on the phone!!- nothing personal-email me PLEASE!) For today? It's Friday, there is no ship, and as soon as I hit publish on this- we are headed out to grab a little family time- it's more important than anything and it is really hard to get these days!! Much love to so many of you who have hung in there with us...and come see us when you are here! I love familiar faces!!!
A
Continue reading